January 4, 2010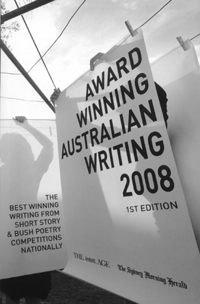 Published by Melbourne Books
ISBN: 9781877096660
RRP: $28.59
The reason I'm keen to include this review is that one of my stories is included.
This is the first of what Melbourne Books plans to be an annual publication.
The publisher looked at over a hundred stories and bush poems which had won awards around Australia in the past year and then chose twenty-six of these to showcase some of the best writing being produced in this country.
The stories are a delight to read, ranging from the whimsical to the scary.  All of them are entertaining and many of them are thought-provoking, as short stories should be.  The included poems (in the form of bush verse) are also a pleasure to read.  There is the funny ('The Dingo Pup') and the serious ('The Power of Kokoda').
The authors showcased here range from the young to the 'mature'; from those who spend most of their time writing, to those who write occasionally; from first-time winners to writers who have made a habit of winning awards; from previously unpublished to frequently published authors.
Whether they are funny or serious, the stories and poems all touch something in the reader.  They are all the product of excellent storytellers.
All the stories and poems have made it through the rigours of competition and then been further selected to make it into print here.  This is a welcome addition to the other annual anthologies of short stories, poetry and essays which spend months on my bedside table and which I happily dip into.
Melbourne Books has already started looking for stories and poems for the 2009 issue, so enter and win as many competitions as you can, for your chance at being published.
[First appeared in The Australian Writer, September 2008]
© 2008-10 Daan Spijer
[to receive an email each time a new review is posted, email me: <daan dot spijer at gmail dot com>]
---

CLICK HERE to download a formatted PDF of the above post
---

See more of Daan Spijer's writing and his photos at Seventh House Communications