March 5, 2016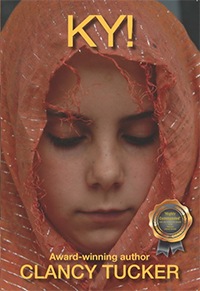 Ky!
Clancy Tucker
ISBN: 9780646932262
$15
95 pp
Clancy Tucker Publishing 2015
Clancy Tucker has written a delightful story of a teenage girl overcoming adversity.  Rida is an immigrant, a Muslim, and is bullied at school because of the way she looks and because she is regarded as a nerd.  She doesn't fit in because she stands out.  In the process of trying to avoid her tormentors, she meets people who assist her in unexpected ways.
Rida also meets Ky, another girl who doesn't fit in and who has a secret that eventually turns Rida's life around completely.   This is a narrative very much of our time, dealing with issues of xenophobia and prejudice and how various people deal with these.
Clancy Tucker paints real people with real issues and brings it all together in a satisfying way.  At only ninety-five pages, this is a book that can easily be read in one sitting and the reader will be richly rewarded for doing so.
© 2016 Daan Spijer
[to receive an email each time a new review is posted, email me: <daan [dot] spijer [at] gmail [dot] com>]
---

CLICK HERE to download a formatted PDF of the above post
---

See more of Daan Spijer's writing and his photos at Seventh House Communications